After over a year and nearly 50,000 downloads on WordPress.org, the Automattic team announced that the Independent Publisher theme is now available to the millions of sites hosted on WordPress.com.
The version available on WordPress.com is not an exact copy of the Independent Publisher theme available on WordPress.org, however the design is essentially the same and the WordPress.com team has gracefully credited me as the theme designer (the project contributors deserve credit too). Many things were stripped down or changed in my original source code to make the theme work better for WordPress.com sites and to simplify the available options.
You can visit the theme page on WordPress.com and see a Live Demo on WordPress.com. If you're interested in trying out the WordPress.com version on your self-hosted site, you can download it on WordPress.com. Note, however, that the WordPress.com version is not backwards compatible with the version that is still being actively developed on GitHub.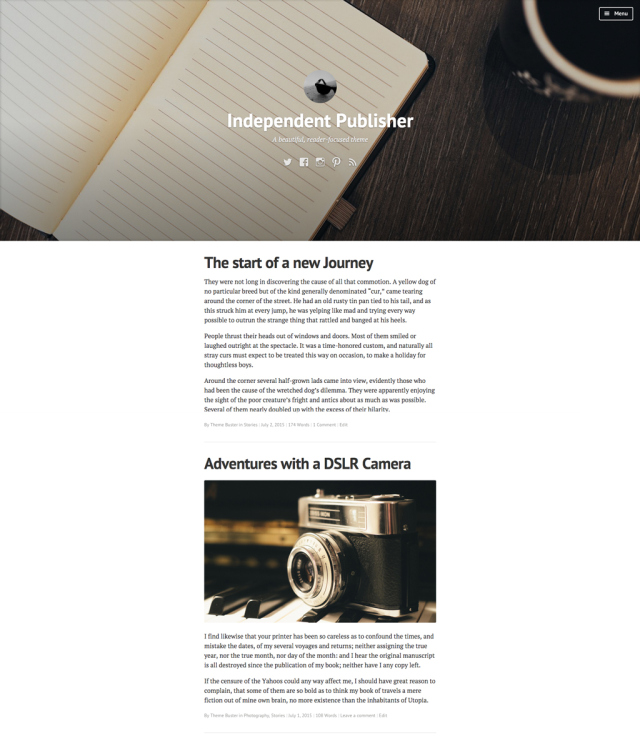 The future of Independent Publisher
While the version of Independent Publisher available on WordPress.com is slightly more polished than the one under active development on GitHub, it contains fewer options and less flexibility than the WordPress.org version. My plan is to continue working on this theme as I have been over the past year and I will continue using the WordPress.org version on my personal sites. The next release of Independent Publisher (on WordPress.org) will be coming very soon and so far includes 4 bug fixes, 4 enhancements, and 6 new translations.
There are currently 23 open Issues on GitHub, mostly enhancement-related. In the coming weeks I will be reviewing the code changes made to the WordPress.com version of the theme to see which features I can port over to include in the WordPress.org version, such as Multi-Level Menu Navigation.
The primary goal with Independent Publisher at this point is to continue refining the theme and improving compatibility, while maintaining backwards compatibility for everyone who is already using the theme. If the comments on the WordPress.com announcement are any indication, this theme design is well-loved by many people and that only makes me more motivated to keep it current and up-to-date. 🙂